From the leading manufacturers of fiberglass reinforced plastic (FRP) products, HPS is recognized as a quality supplier and Installer of FRP based flooring for industrial and commercial use.
FRP materials offer resistance on fire, slip, impact, and corrosion resistance. Other key benefits of FRP are its ease of installation and low maintenance cycle.
WHY CHOOSE FIBERGLASS REINFORCED PLASTIC (FRP) INSTEAD OF STEEL?
Contractors and architects prefer FRP over metal, wood, and concrete for many industrial and construction applications. The benefits of building with FRP :
FRP is 70% lighter than steel with an exceptional strength-to-weight ratio.

FRP is corrosion resistant and requires less maintenance than traditional metal, wood, and concrete products.

FRP is non-conductive and slip resistant, providing a safer alternative to steel and concrete.

We manufacture and fabricate FRP in a range of colors and shapes, giving architects options for creating compelling structures.
HPS offers the full range of FRP products including gratings, railings, ladders, stairs, plates and work platforms for the Philippines market.
In addition to standard FRP stair solutions and structural products, HPS provides products with resin formulations engineered for specific corrosion, safety and strength requirements in a variety of custom shapes and colors.
FRP Molded Grating
FRP Molded Gratings are manufactured using open mold process providing vertical and horizontal fibers and Orthophthalic, Isophthalic or Vinyl Ester resins, giving perfect bi-directional mechanical properties. Combining unmatched corrosion resistance with strength, long life and safety, Molded Gratings provide the ultimate in reliable performance, even in the most demanding corrosive conditions. FRP molded products are easy to cut and install.
Resin Type
Resin Base
Description
Corrosion Resistance
Available Color
Max.Oper.Tem
Type V
Vinyl Ester
Superior Corrosion Resistance and Fire Retardant
Excellent
Dark gray
Orange
110°C
Type I
Isophthalic
Industrial Grade Corrosion Resistance and Fire Retardant
Very Good
Green Yellow
Light Grey
105°C
Type O
Orthophthalic
Moderate Corrosion Resistance and Fire Retardant
Normal
Green Light
Grey
70°C
Advantages
Corrosion Resistance
Anti-slippery
Light Weight but High Loaded Strength
Various Sizes and Colors Available
Easy Installation and Maintenance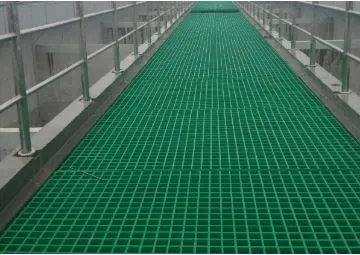 FRP Pultruded Grating
Pultrusion is a continuous process using fiberglass reinforcements with thermosetting resin material, the continuous fiberglass roving and fiber mat are drawn through a resin bath and then through a serious of pulling guides and a heated mold, and finally forming the desired grating which is automated production process.
Features
Pultruded grating has most of the features of molded grating along with several other notable features such as the loading rod has high fiberglass content ( 65%-70% ) this compared with molded grating allows Pultruded gratings to span larger areas and reduce base support and decrease engineering cost.
Anti-corrosion
Pultruded grating is also available in Ortho, ISO and VE resins which allows for excellent corrosion resistance and performance.
Light weight
Pultruded grating weight is quarter of steel grating, it is easy to move and install noting that huge savings can be achieved on lifting and transportation.
High strength
Pultruded grating according to weight ratio is usually 35% resin and 65% fiberglass, so it has high strength and weight ratio.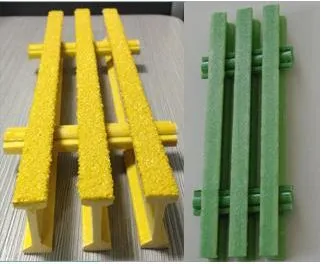 FRP PULTRUDED SHAPES, LADDERS, STAIRS & PLATFORM SOLUTIONS
Pultrusion is a continuous process using fiber reinforcements with thermosetting resin materials. The continuous fiberglass roving and fiber mat are drawn through a resin bath and then through a series of forming guides and finally through a heated mold. Pultruded Profiles are an excellent alternative to metal where rust, corrosion, or chemical attack are problems. It provides exceptional strength, toughness and consistency and its use is increasing across a wide range of applications and industries. HPS provide products such as I Beam, box, channel, angle, square tube, round tube, rod, kick plate and so on.

Product Features:
Light but high loaded strength
High anti-corrosion and anti-aging
Easy installation and rich colors
Low maintenance
Non-conductive
Lowest in life cycle cost
HANDRAILS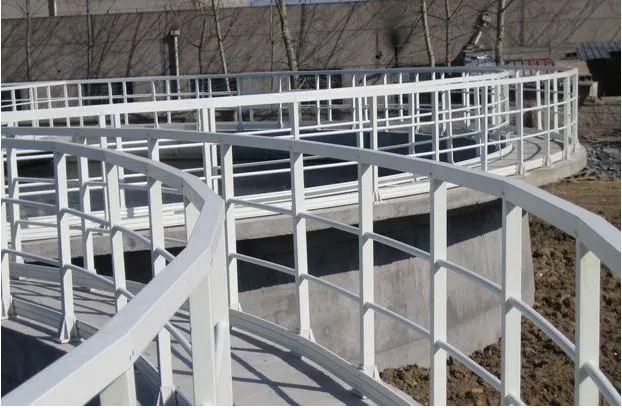 Trench Gratings
HANDRAILS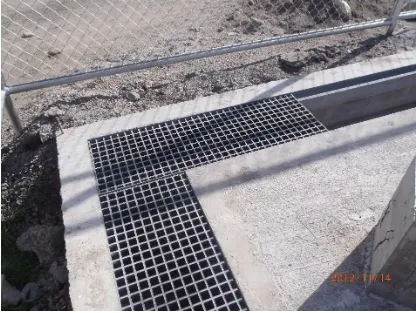 PLATFORM GRATINGS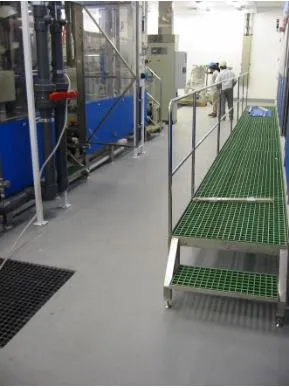 PULTRUDED HANDRAILS