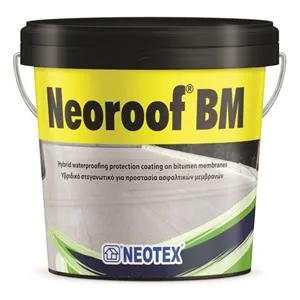 PACKAGES
13 kg plastic containers
DOWNLOAD
Hybrid waterproofing coating for mineral bitumen membranes and concrete surfaces roofs
Description
Acrylic-polyurethane water-based waterproofing coating suitable for application above mineral bitumen membrane with gravity stone. It forms a non-penetrating against moisture film with resistance to stagnant water. It is applied without primer above mineral bitumen membranes and prevents the migration of asphalt.
Fields of application
Mineral bitumen membranes
Roofs made of concrete, cement boards, cement slurries
Rooftops with resistance to stagnant water
Air-conditioning tubes
New or old polyurethane waterproofing layers
Metallic surfaces after the application of the suitable primer
Properties-Advantages
It delays the aging of the mineral bituminous membrane
Prevents the migration of asphalt
It reflects the solar radiation and significantly reduces the surface temperature of the bituminous membrane
It is easily applied and dries into a smooth film that covers capillary cracks and provides total protection against moisture.
It is not affected by adverse weather conditions and maintains its elasticity for temperatures from -5oC to +80oC, offering excellent impermeability to water.
Technical characteristics
Appearance: Viscous liquid
Density (EN ISO 2811-1:2011): 1,36-1,37 kg/l
Consumption: 1,3-1,5 kg/m2 for two coats (mineral bituminous membrane), 0,9-1,1 kg/m2 for two coats (cementitious surface)
Drying time (25oC): 2 – 3 hours initially
pH (ISO 1148): 8 – 9
Dry to recoat (25oC): 12 hours (low temperatures and high humidity prolong drying)
Service temperature: From -5oC to +80oC
Solids content w/w: 68%
Elongation: 400%