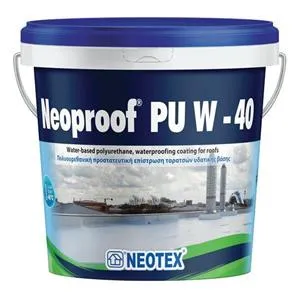 PACKAGES
Plastic container 13kg
DOWNLOAD
Description
Water based polyurethane, waterproofing coating for roofs when mechanical durability and outstanding waterproofing properties are required. It forms a non-penetrating against moisture film with resistance to UV and mechanical stress.
Fields of application
Roofs made of concrete, cement boards, mosaic, cement slurries
Rooftops with resistance to stagnant water
Metallic surfaces after the application of the proper primer(Vinyfix Primer or Silatex Primer)
New or old acrylic or polyurethane waterproofing layers
Mineral bitumen membranes where the low temperature flexibility from -10oC down to -40oC is needed.
(Upon some surfaces above, it is necessary to prime them with the appropriate each time primer, before Neoproof® PU W-40 application)
Properties-Advantages
Ideal solution for waterproofing walkable roofs
High mechanical strength
Applicability and on cloudy days as the final polymerization of the material is done by evaporation, and therefore under shading
No appearance of holes in the surface during the curing of material
Protection of polyurethane foam insulation
Eco-friendly (Water-based)
Easy to apply
Resistant to temperatures from -40oC to +80oC