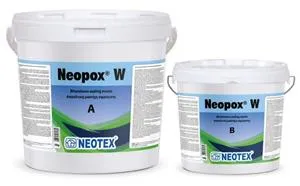 PACKAGES
Sets of 12kg, 6kg in fixed weight proportion
DOWNLOAD
Neopox® W is suitable for use on floors and walls of factories, shops, laboratories, stairs, slaughter-houses, garages. It is also suitable in general for use in indoor areas, where solvent fumes are undesirable (e.g. wine and food stores and factories). It could be applied on metallic surfaces and also on damp concrete surfaces.
Properties/Advantages
Neopox® W is a new technology environmentally friendly water-based easy to apply quick-drying paint. It is resistant to water, alkalis, detergents, diluted acids and many solvents. It offers also good abrasion, yellowing & strength resistance and very good adhesion on cement surfaces. It doesn't contain any solvents (0% V.O.C. content) nor benzyl alcohol.
Compliant with the regulation 2004/42/EC for limitation of V.O.C. in paints and varnishes
Colors
White (RAL 9010), grey (RAL 7035). Tailor-made shades can be produced for a minimum quantity, upon special arrangement.
Auxiliary Materials
Acqua® Primer: Set 7kg
Neopox® Special Primer 1225: Set 1kg, 5kg