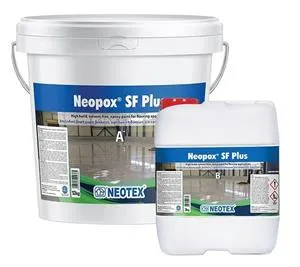 Fields of Application
Neopox® SF Plus is a suitable coating that can be applied on cementbased floors which need high mechanical and chemical resistance, e.g. factories, laboratories, warehouses, superstores, parking places, garages, slaughterhouses, larders, hospitals, schools, etc. Neopox® SF Plus is also recommended for repair and refurbishment of old floors.
Properties/Advantages
Neopox® SF Plus is a two-component epoxy paint based on selected resins and hardeners without solvents which shows great abrasion and yellowing resistance, significant strength and chemical resistance (to alkalis, solutions of acids, water, petroleum oils and many solvents).
PACKAGES
Set of 16kg, 5kg
DOWNLOAD