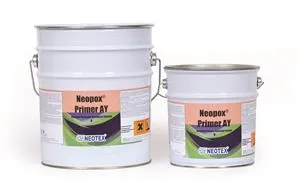 PACKAGES
Sets of 5,05kg and 1kg
Offers a permanent solution to floors with rising moisture. Suitable for surfaces to be coated with epoxy coating systems (Epoxol® Floor, Neopox®).
Properties
Two-component epoxy primer (100% solids) with high abrasion resistance.
It is resistant to abrasion and chemicals (alkalis, dilute acids, water and several solvents).
It can be applied to surfaces with high humidity. It presents a very strong adhesion, even on high humidity, from the rising damp concrete.
Can be used on new concrete floors (less than 28 days), which will be coated with epoxy coatings
It is classified as SR-B2,0, according to EN13813.
DOWNLOAD