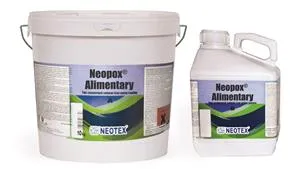 PACKAGES
Sets 13kg in fixed weight proportion.
DOWNLOAD
Description of the product
Two-component solvent-free high build epoxy system certified for permanent contact with foodstuff and flooring application.
Fields of application
Foodstuff and beverages facilities
Properties & Advantages
Neopox® Alimentary is a suitable coating that can be applied on cement-based floors which need high mechanical resistance. It is a two-component epoxy coating based on selected resins and hardeners without solvents which shows great abrasion and yellowing resistance and significant strength.
Technical characteristics
Appearance: Glossy
Mixing ratio (weight proportion): 100A:30B
Material consumption:330-350 gr/m2 in one layer
Hardening time (tack free) (25oC): 10 hours
Working time (25oC): 1 hour
Hardening temperature of application: 12oC
Total hardening: ~7 days
Variations
Neopox® Alimentary Winter:
Special version of the product for application in highly humid environments and low temperatures. (<12°C and >5°C, relative atmospheric humidity <75%, surface humidity content <4%)