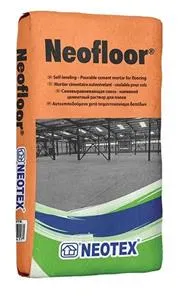 Description
Self-leveling cementitious screed for smoothing or repairing imperfections on floors, before applying laminate parquets, tiles or epoxy paints.
Fields of application
Neofloor® is suitable for substrates made by concrete, cement-mortar, old tiles and any other mineral substrates in interior or exterior spaces. It can be walked on after 6 hours after which time installation of ceramic tiles can take place. In overcoating with Neopox® Special epoxy paint as well as in carpeting or wooden floor installations it is recommended to wait 3 days.
PACKAGES
25kg carton bags
DOWNLOAD