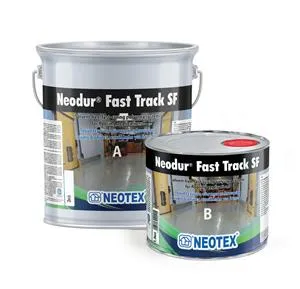 PACKAGES
Set of 4,5 kg in tin cans
DOWNLOAD
Solvent-free fast-setting aliphatic polyurea system for flooring applications
Description of the product
Neodur® Fast Track SF is a high-solid, solvent-free polyurea coating. It is fast-drying and fast-curing, enabling the full installation of the flooring system (primer & 2 coatings) within 9 hours (25oC). It can be applied in interior areas, being odor-free.
Fields of application
Warehouse ramps, garages, terraces, parking areas
Outdoor and indoor stores, industrial shop floors
Outdoor laundries, gas stations, etc.
Properties-Advantages
Neodur® Fast Track SF can be applied in one layer, when the surface is smooth and properly pre-treat
It is formulated with pure aliphatic resins and contains UV filters, remaining unaffected by the sunlight and adverse weather conditions.
It cures fast providing quick tack free time (3 hours), allowing most projects to be completed within one day.
It provides high resistance to abrasion and mechanical stress.
It shows high chemical resistance (in diluted acids-alkalis, car oils, petroleum, etc.)