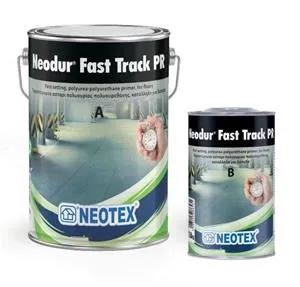 Floors and walls (of factories, laboratories, warehouses, superstores, parking places, garages, slaughterhouses, larders, hospitals, schools, etc.), which will be covered with Neodur® Fast Track. Also suitable for the stabilization of old cement-based surfaces (anti-dust sealer) and adhesion improvement of flooring protection or waterproofing 2K systems.
Properties
Two-component, fast-setting, solvent-based, innovative hybrid primer with high hardness and abrasion resistance. It ideally combines fast drying with excellent substrate wetting and very strong adhesion on cement-based substrates. It offers good resistance to alkalis, diluted acids, water and many solvents.
It is fast-drying and fast-curing, enabling the full installation of Neodur® Fast Track system (primer & 2 coatings) within 9 hours (25oC).
DOWNLOAD