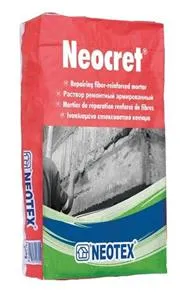 PACKAGES
Bags in 25kg and 5kg.
Description
Cementitious fiber-reinforced, fast setting mortar, for repair jobs on concrete
Fields of application
It is suitable for easy and durable restoration jobs in buildings, repairs of damaged, cracked or broken concrete elements (e.g. columns, beams, slabs, stairs, holes, doors, windows (frames, bases), cracks and joints on concrete. It can be used as a repairing renders in a spot thickness of 30mm after electrician or plumber jobs or on walls and ceilings in one single coat of 15mm.
Properties
Neocret® is a ready to use premixed mortar of high thixotropy.
It is a fast setting and fiber reinforced
The addition of water provides a mix, which is easily applied on vertical surfaces and ceilings by means of trowel or rendering machine
It offers great resistance to damp and frost.
It is classified as type GP CS IV, W1 mortar according to ΕΝ 998-1.
DOWNLOAD