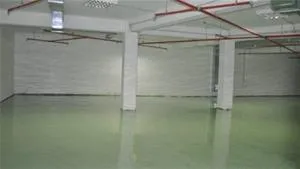 PACKAGES
Sets of 12,7kg in tin cans
DOWNLOAD
Two component solvent-free epoxy system for creation of self-levelling floors.
Fields of Application
Epoxol® Floor P is a suitable screed that can be applied on cement-based floors which need high mechanical and chemical resistance, e.g. factories, laboratories, parking places, garages, larders, schools, etc. Thanks to its excellent covering of cracks and imperfections and quick walkability, Epoxol® Floor P is also recommended for repair and refurbishment of old floors.
Properties & Advantages
Epoxol® Floor P is a two-component epoxy system based on selected resins and hardeners without solvents which show great abrasion and yellowing resistance, significant strength and chemical resistance (to alkalis, solutions of acids, water, petroleum oils and many solvents).
Compliant with the regulation 2004/42/EC for limitation of V.O.C. in paints and varnishes.
It is classified as SR-B2,0-AR0,5-IR4 according to EN13813
Technical Characteristics
Appearance: Gloss
Mixing ratio (weight proportion): 100Α:27Β
Hardening time (tack free) (25°C): 10 hours
Substrate Temperature: +12°C to +35°C
Ambient Temperature: +12°C to +35°C
Surface humidity content: <4%
Relative atmospheric humidity: <70%
Total Hardening: ~ 7 days
Hardness (Shore D, ASTM 2240): 72
Abrasion resistance (ASTM D 4060): 83mg
Impact resistance (EN ISO 6272): IR4
Adhesion strength (EN 13892-8): ≥ 2,5 N/mm2
Resistance to temperature (dry loading) from -30°C to +100°C
Consumptions
Self levelling System:
Proportion Epoxol® Floor P – quartz sand (Μ-32) = 1:0,7-0,8
Proportion Epoxol® Floor P – quartz sand (Μ-34) = 1:0,4-0,5
Consumption (per mm): 0,9kg/m2 resin + 0,65kg/m2 quartz sand Μ-32 For thin layer 1mm use quartz sand Μ-34. In this case the consumption (per mm) : 1 kg/m2 resin 0,45kg/m2 quartz sand Μ-3
Slip-resistance surface:
Spreading quartz sand Μ-32 to the fresh self-levelling layer Epoxol® Floor P with consumption 3-4kg/m2, and consumption of Epoxol® Floor P (finishing sealing layer) = 400gr/m2
Colors
Ral 7035 (Light grey)