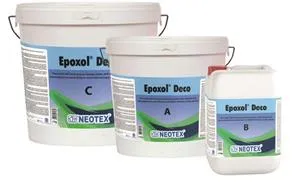 PACKAGES
Sets of 10kg (resin) 17kg (filler)
DOWNLOAD
Description
Solvent-free epoxy system, suitable for the creation of self-leveling decorative floors with a granite look.
Fields of application
Epoxol® Deco can be applied on superstores, caterings, hotels or residential floors. It gives a final surface with a natural look of granite.
Properties and Advantages
Epoxol® Deco is a two-component epoxy system based on selected resins and hardeners without solvents which show great abrasion and yellowing resistance, significant strength and chemical resistance. It consists of a transparent resin (A + B) and decorative filler.
Technical Characteristics
Appearance: Semi-gloss
Consumption: (Resin: Filter-1 kg: 1,7kg): 1m2 of 2mm thickness.
Density: A component: 1,1 gr/cm3,
B component: 1,02 gr/cm3
Mixing ratios (weight prop.): 100A:60B
Curing time (25°C): 10 hours
Pot life (25°C): 40 minutes
Dry to recoating (25°C): 24 hours
Minimum temperature application: +12oC
Walkability (25°C): 24 hours
Total hardening: ~ 7 days
Abrasion resistance: 71 mg (- ASTM D 4060,
TABER TEST, CS 10/1000/1000)
Impact resistance: IR4 (EN ISO 6272)
Adhesion strength: ≥ 2,5 N/mm2